DORAL, FLA. (WSVN) - A renewable energy plant that processes garbage in Doral has been burning all week, leading residents near the facility to remain sheltered indoors as officials continue to put out the fire.
On Friday, students at schools near the plant were dismissed early out of an abundance of caution.
The schools that were dismissed included Andrea Castillo Preparatory Academy and Doral Senior High School.
There were also two parks affected by the smoke, including Doral Glades Park and Doral Legacy Park.
"As the firefighters gain greater access to the remaining blaze, we do anticipate an increase in smoky conditions," Miami-Dade County Mayor Daniella Levine Cava said.
The Environmental Protection Agency released a report on Thursday, which said that the smoke from that fire had hit an unhealthy level and that residents should be told to shelter in place.
Officials advise residents to keep their windows closed, run their air conditioners and change air filters if they notice it turning dark.
"The general recommendation is to stay indoors, especially if you have other respiratory illnesses, other medical conditions. It's a good idea to stay indoors and away from the smoke," said Dr. Hany Atallah, chief medical officer at Jackson Memorial Hospital.
As a result, all residents between Northwest 74th Street and 92nd Street, and Northwest 92nd Avenue and 112th Avenue are being asked to remain indoors.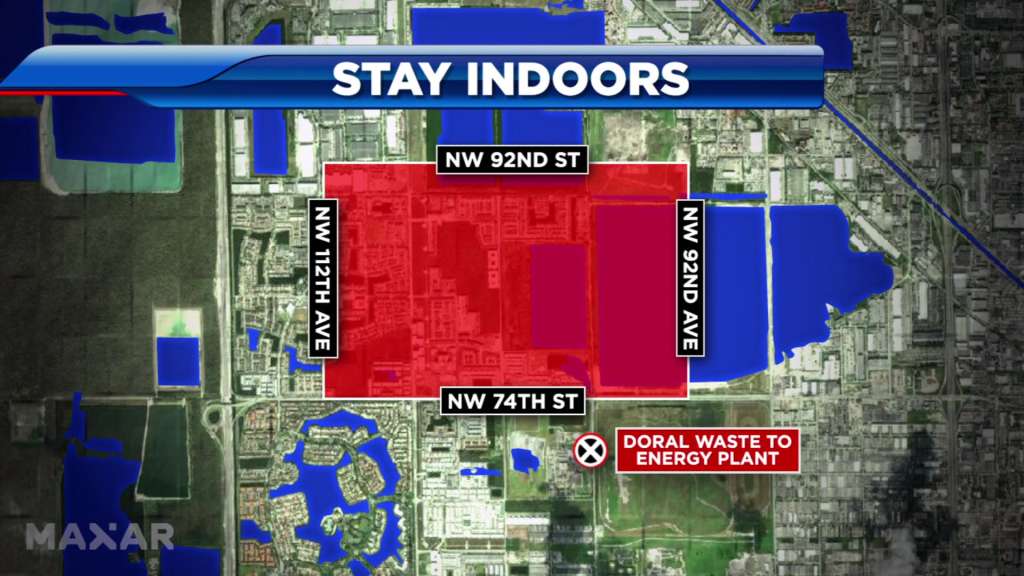 All outdoor activities for school students were canceled earlier in the week and remain canceled until further notice.
People who live and work near the plant are advised to wear masks.
Doctors said if you have a hard time breathing, you should seek medical attention immediately.
Copyright 2023 Sunbeam Television Corp. All rights reserved. This material may not be published, broadcast, rewritten or redistributed.