MIAMI GARDENS, FLA. (WSVN) - An armored truck driver came under the gun while servicing an ATM in Miami Gardens, and now federal authorities are seeking the public's help in their search for the people responsible for the heist.
The robbery occurred just after 3:30 p.m. on Thursday near 18350 NW 2nd Ave.
According to the FBI, the two armed assailants targeted the armored truck courier as they were servicing an ATM machine at a Bank of America branch.
"Armed with a gun, they are advising it was three males wearing masks," a dispatcher said in radio transmissions.
The FBI said it's unclear how much cash the crooks stole.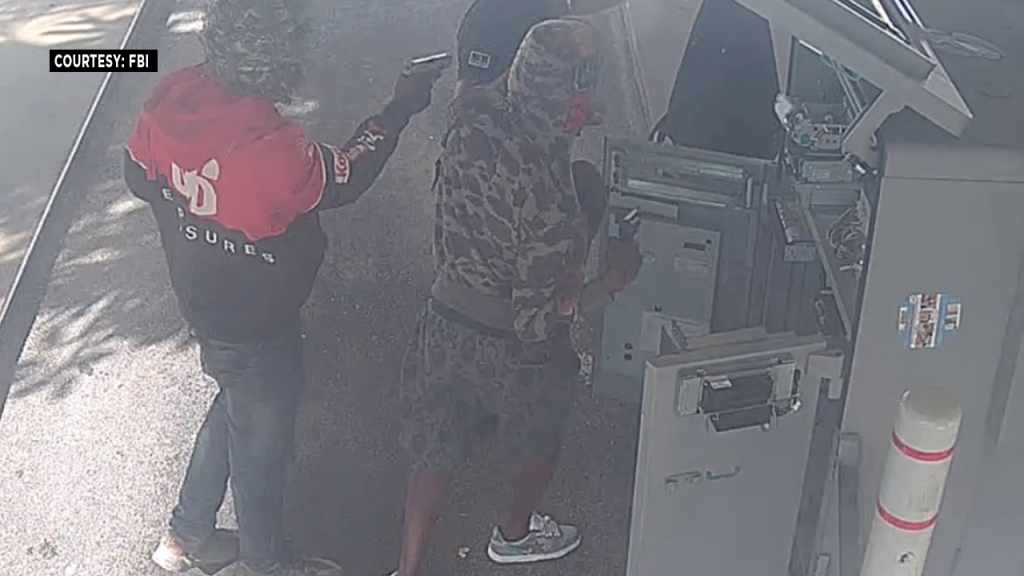 Surveillance stills released by investigators show two of the suspects, seen wearing masks and wearing distinctive clothing, with their guns drawn.
"They fled on foot, last seen heading eastbound," a dispatcher said in radio transmissions.
One of the robbers was wearing a camo hoodie with the letters WGM on the hood part, and the other was wearing a Halloween mask and a black and red hoodie with the number 36 on the back.
Authorities believe a third person may also be involved and was not captured by the surveillance video.
There are similarities between this robbery and one that took place at the same bank on July 20. Surveillance images show a duo, also with guns drawn.
Authorities said the subjects in the July robbery took off with a tray of cash.
No gunshots were discharged during Thursday's incident, and there have been no reported injuries.
Cameras showed the armored truck as law enforcement drove it away from the bank several hours after the robbery.
Anyone with information about this robbery or an FBI investigation is urged to call 754-703-2000 or go to tips.fbi.gov.
Copyright 2023 Sunbeam Television Corp. All rights reserved. This material may not be published, broadcast, rewritten or redistributed.