Changes arrive this weekend as another front makes its way into South Florida on Sunday. Ahead of the front, it will be warm and mostly dry but showers do become likely once the front arrives.
Expect nice conditions this Saturday although much warmer temperatures. Following highs in the 70s to low 80s the past few days behind a previous cold front, temperatures will soar into the mid to upper 80s this afternoon across most of South Florida. That will be paired with a blend of sun and clouds and dry conditions for most, given there is only a 10% chance for rain. It will also remain breezy along the east coast with wind gusts up too 20-30 mph today.
Clouds increase tonight along with the chance for a spotty shower, giving way to a partly sunny sky on Sunday. The front slowly arrives during the day Sunday, causing the generally cloudy conditions and milder temperatures. Highs on Sunday will be near normal in the low 80s at most locations. Sunday will not be a washout despite this front arriving but rain does become likely by Sunday night. Therefore, much of the day is expected to be dry, especially in the morning, but rain chances gradually increase throughout the afternoon and evening with scattered showers and thunderstorms likely during the evening hours.
The best chance for rain with this front will be Sunday night into Monday as the front presses through while stalling near South Florida or just offshore to our east. The rain will continue at times into Monday morning — and perhaps the early afternoon hours — until drier air begins to flow in by Monday night. Given the clouds, showers and northerly wind flow on Monday, temperatures will be cooler and below average into the mid to upper 70s for highs.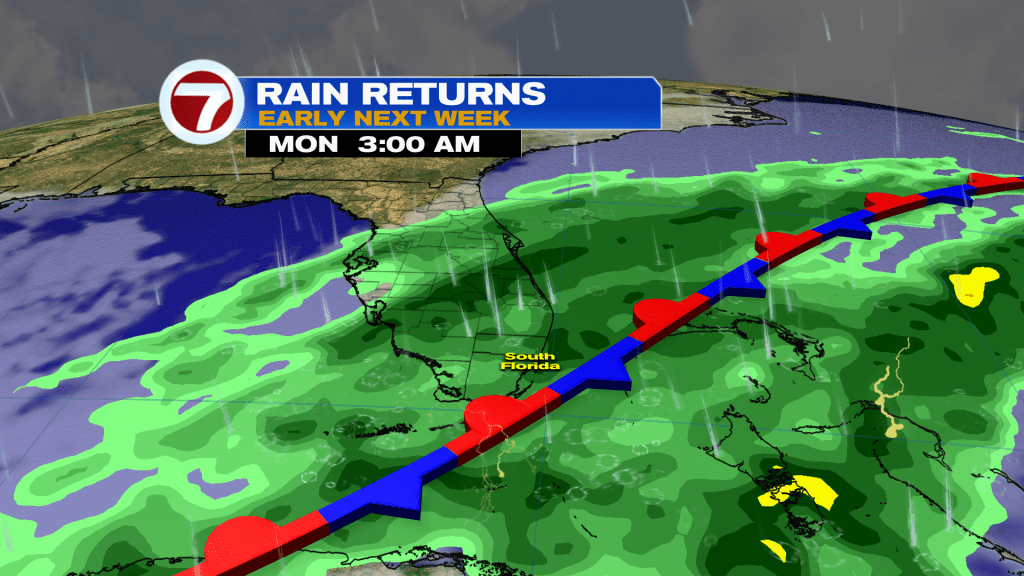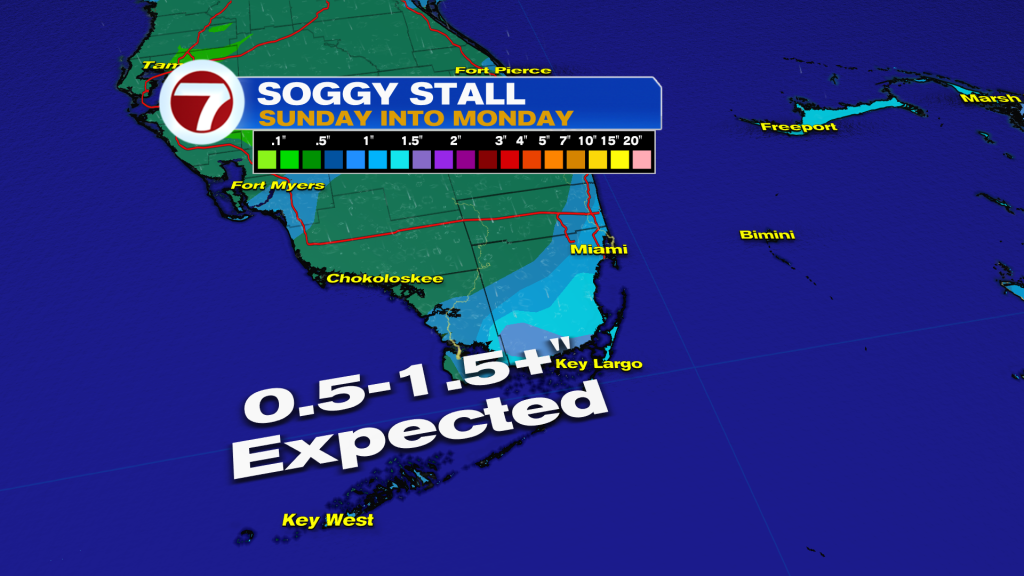 For the remainder of next week through Friday, highs do warm back up into the low to mid 80s. It will be generally dry with only the occasional shower, especially on Tuesday and Wednesday, following the front Sunday into Monday.