COCONUT CREEK, FLA. (WSVN) - Police seek the public's help in identifying a man involved in a voyeurism incident that occurred at a Home Depot in Coconut Creek.
According to Coconut Creek Police, a man informed officers that the subject placed a mobile phone beneath a bathroom stall and discreetly captured several pictures of him, April 24.
Subsequently, the suspect exited the store before he was apprehended.
Investigators said Fort Lauderdale Police believe they have a case involving the same man committing a similar crime. Police said he may be driving a red pickup truck.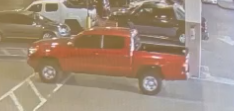 Coconut Creek Police urge anyone with information regarding the subject's identity to contact them at 954-973-6700.
The investigation into the incident is currently ongoing.
Copyright 2023 Sunbeam Television Corp. All rights reserved. This material may not be published, broadcast, rewritten or redistributed.