It sure was a hot Saturday in South Florida with near-record heat as many areas soared into the upper 80s! Sunday will remain hot but highs should be a degree or two lower than how they were on Saturday.
Expect highs in the mid to upper 80s this Sunday paired with sunny to partly cloudy skies. A light north to easterly breeze will be in place, which will keep a moderate rip current risk in place at our beaches today. A weak front continues to move south but is starting to stall near the lake region today. Due to gradually increasing moisture, a very spotty shower cannot be ruled out this afternoon or evening but most clouds and showers will remain confined to our north.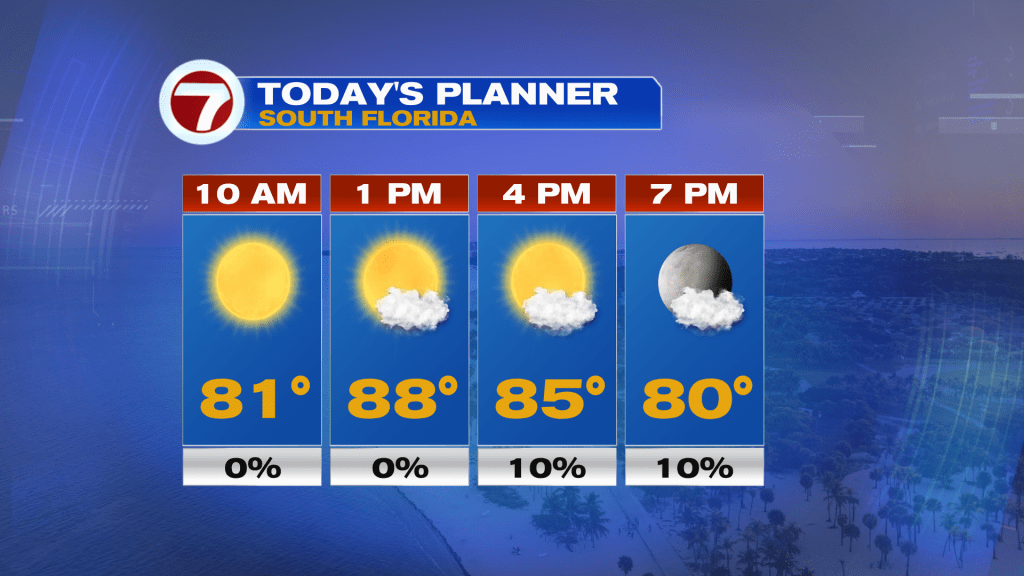 By Monday, the front will begin to weaken some more to our north and east but there will be a little more moisture in the area. Therefore, I am expecting some spotty showers to develop across Miami-Dade and Broward late in the day, mainly across inland locations. These showers will be spotty in nature so most locations will remain dry with a good deal of sunshine for the morning into at least the early afternoon. Given the lack of the front moving across South Florida, temperatures will remain warm and above average.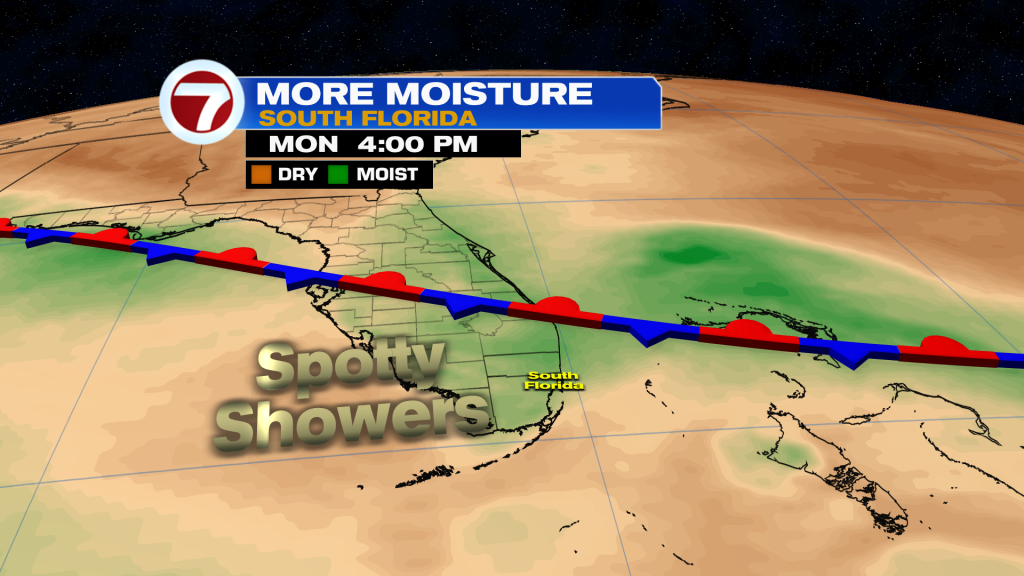 This story holds true into Tuesday and Wednesday too with above average temperatures topping off into the mid to upper 80s paired with a blend of sun and clouds and a spotty shower chance (20% chance).
A weak front is then expected to work through South Florida late Wednesday and into Thursday from the northeast direction, which could usher in a line of isolated showers and then a minor drop in temperatures. Highs are expected to return back to near-normal levels into the low 80s at most locations behind this weak front on Thursday and Friday. Winds will also turn breezy then until we warm back up on Saturday.