The Presidents Day holiday weekend has arrived and the weather should cooperate for the most part for your outdoor plans this weekend! A weak front crossed through Friday night and that will lead to a seasonable air mass this Saturday across South Florida.
Now with light winds and a somewhat humid air mass in place, some locations are waking up to dense fog. Once we get several hours of daylight and an increasing wind this morning, that will cause that fog to fade away. Expect more clouds around for this morning, then a blend of sun and clouds for the afternoon. High temperatures will be about a degree above average into the upper 70s to low 80s, so fairly typical for this time of the year.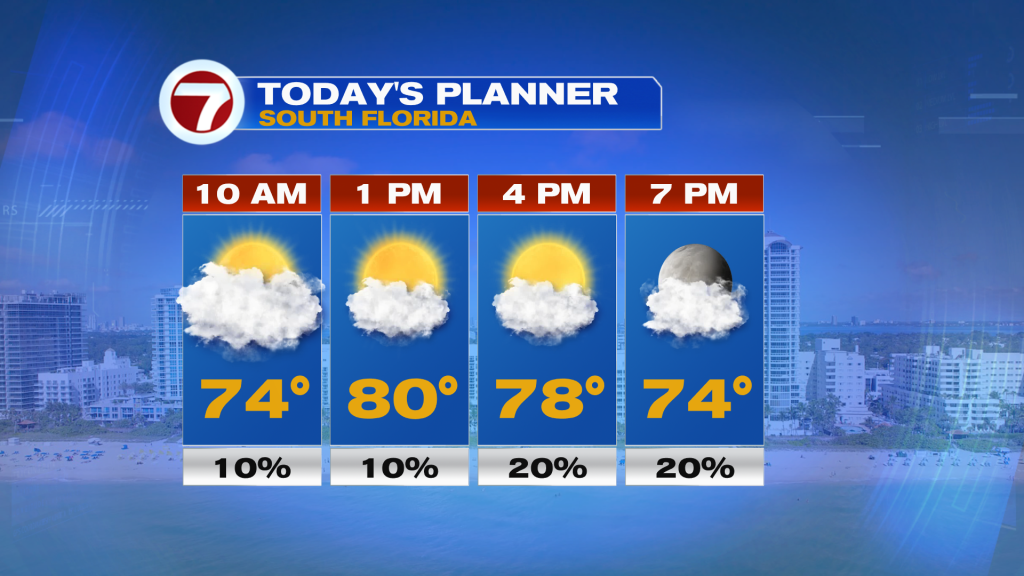 Winds will become an issue once again today, out of the north-northeast sustained up to 10-20 mph but gusting up to 30 mph near the coast. Therefore, marine hazards are in play, especially across the waters off the east coast where a Small Craft Advisory is in effect through Sunday morning.
As we head into tonight, the front that will be stalling just to our south over the Florida Straits will begin to lift back to the north, so this will lead to some more clouds filling the sky along with some isolated showers, especially along the coast. That front will continue toward the lake region on Sunday.
With the weakening front to our north on Sunday, that will lead to the return of a warmer air mass. Highs will be in the mid 80s at many South Florida locations courtesy of a lighter southeast wind. Skies will be partly cloudy and the occasional shower can't be ruled out during the day, but rain chances both on Saturday and Sunday will be fairly low at a 20% chance.
By Presidents Day on Monday, the weather is looking beautiful with a near-0% chance for rain. That will be paired with lots of sunshine and above average temperatures into the mid 80s. Winds will also be rather light, so marine hazards due to the winds should not be in play on Monday.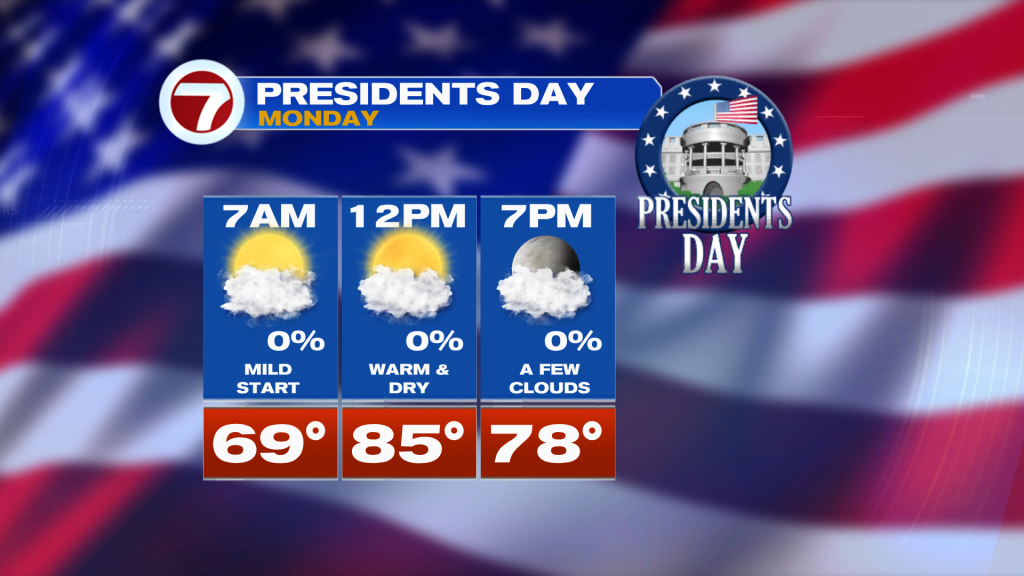 As we head into next week, the warm to hot weather conditions will be the main story due to a large heat dome building over the Gulf of Mexico and Florida. This will lead to above average temperatures hovering into the mid to upper 80s across most of South Florida and provide bright and dry conditions.