South Florida remains under the influence of high pressure this Thursday and that will remain the case through late-week until a cold front arrives and clears through the area this weekend.
Expect a beautiful blend of sun and clouds this Thursday paired with breezy conditions near the coast and high temperatures that will once again be above average into the low 80s.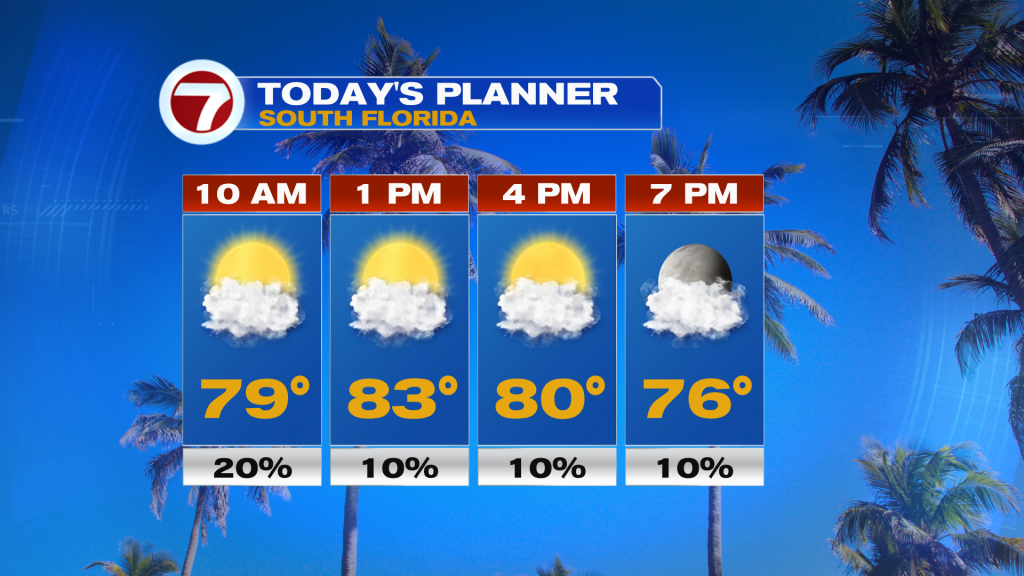 Winds blowing from the southeast will be sustained from 10-20 mph and will gust up to 25 mph, keeping the risk for rip currents high at the east coast beaches. Humidity was nice and low yesterday but it is starting to gradually increase ahead of the weekend front. With that southeast wind and more moisture flowing in around an offshore area of high pressure, a few spotty showers cannot be ruled out, especially in the Florida Keys.
The outlook remains the same for our Friday with high temperatures the same or a degree warmer compared to today. The sunshine will dominate and rain chances will be low but typical at a 10% chance. The breeze will also not be as strong compared to earlier this week along the coast.
Now for this weekend, it will not be as bad or ugly as last weekend. We did need the rain since South Florida was experiencing abnormally dry conditions last week, according to the drought monitor. Both Miami and Fort Lauderdale received more than 4 inches of rainfall on Sunday!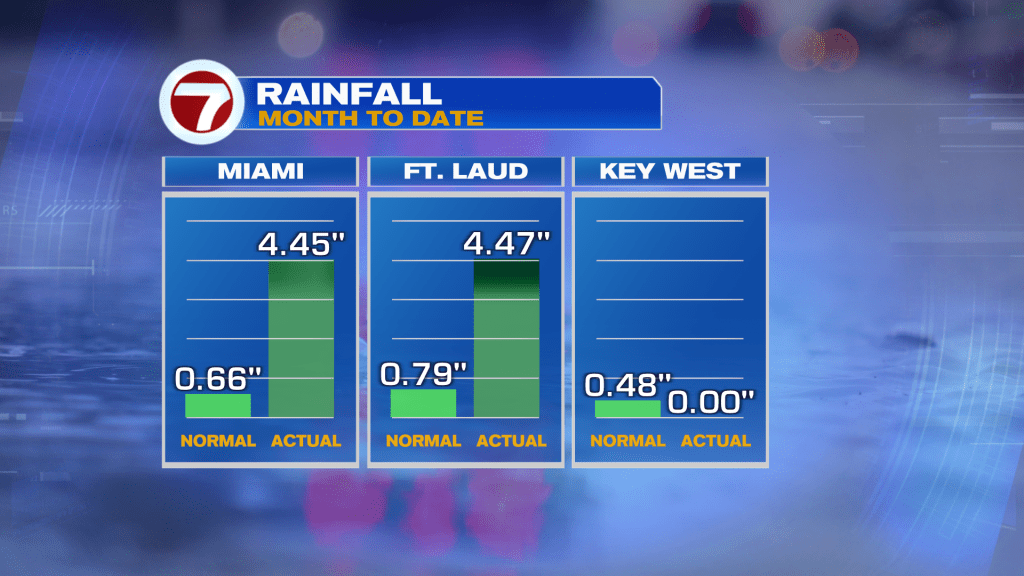 Despite rain being in the forecast this weekend, too, it should primarily be a light to moderate rain with less than half an inch of rainfall forecast and the activity will be fairly isolated.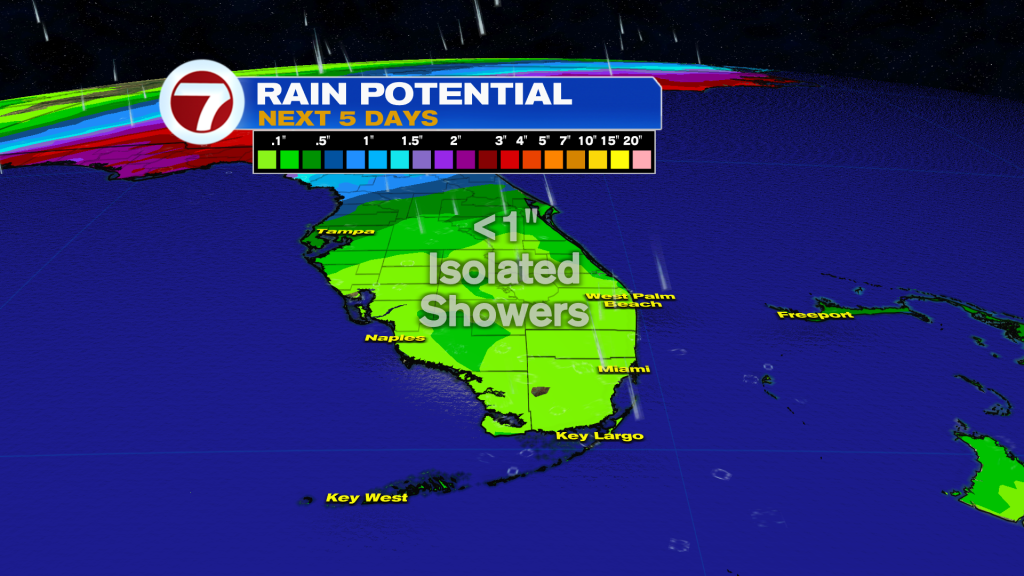 Saturday with feature a continuation of the warm conditions with highs in the low to mid 80s along with a southerly wind flow and a mix of sun and clouds and a few showers, especially in the afternoon. The shower risk will continue into Saturday night and the first few hours of daylight on Sunday. The cold front should clear through South Florida before daybreak on Sunday but limited moisture will be left behind, so clouds will gradually clear during the day. The breeze will pick up out of the west on Sunday with sustained winds over 20 mph and gusts up to 35 mph, and that westerly wind will drive in a more seasonable and cooler air mass.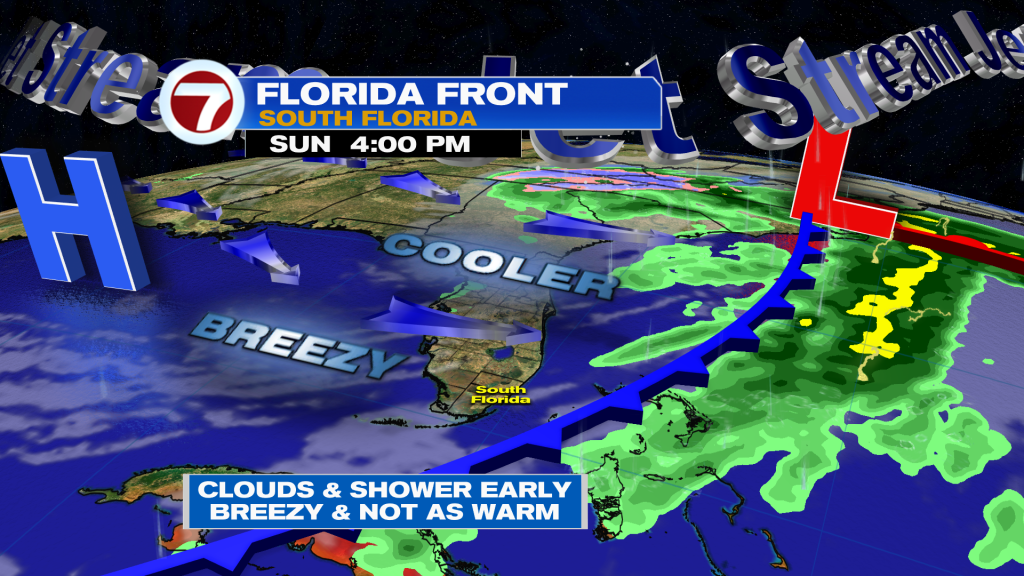 Highs on Sunday through Tuesday will be near to below average in the mid to upper 70s and lows will be in the 50s and 60s. That will be coupled with lower humidity.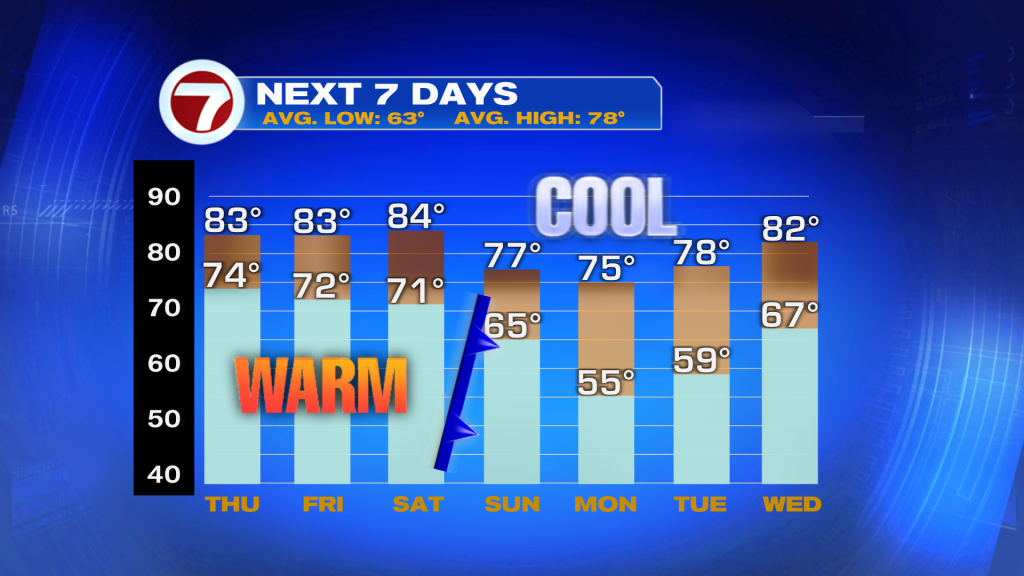 The coldest morning is expected to be on Monday with lows in the low to mid 50s across most of mainland South Florida and in the upper 50s to low 60s across the Florida Keys.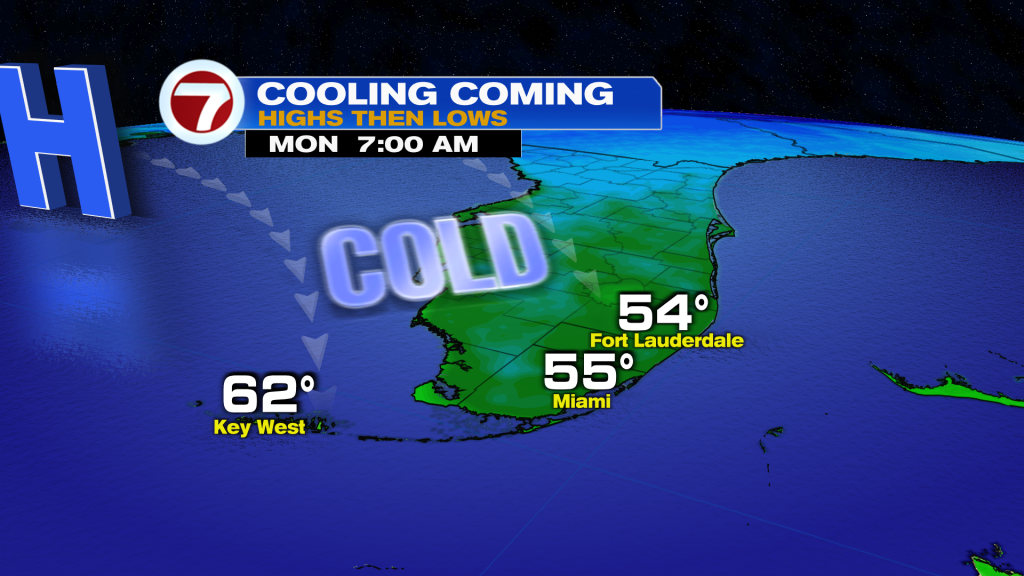 The weather pattern will turn back to quiet behind this front from at least Sunday through Wednesday courtesy of high pressure returning to control of our weather. Temperatures will gradually warm with highs back in the 80s beginning on Tuesday.