On this Groundhog Day, we learned from Punxsutawney Phil that six more weeks of winter are ahead for the country, but that will likely mean the continuation of above average temperatures for us in South Florida!
Following record heat in Miami and Marathon on Wednesday, the heat continues today and tomorrow. Now while we're not anticipating temperatures to reach records today, that will not be the case on Friday. This Thursday, expect the warm, southeast wind flow to continue around high pressure offshore near the Bahamas, which will drive high temperatures above average into the low to mid 80s. That will be paired with mostly sunny skies and a nice, onshore breeze.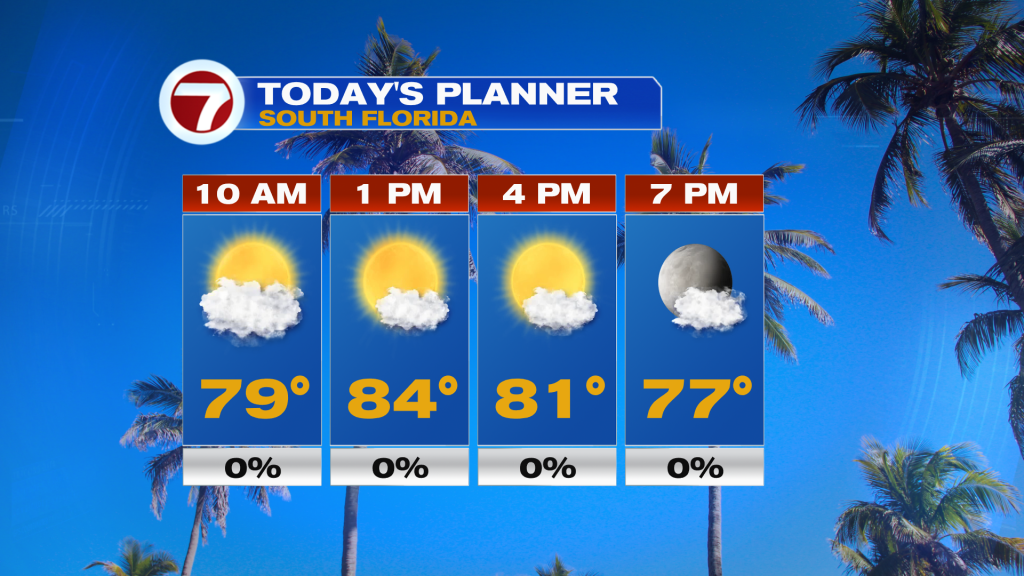 By tomorrow, we'll be watching a weak front approaching Florida but before it arrives it will cause a shift in our wind direction, veering out of the southwest. This will cause temperatures to be even warmer and we will near — if not reach — the all time warmest February temperature in Miami, which is 89F. Most locations, including Miami, Fort Lauderdale and Marathon, are forecast to top off into the upper 80s Friday afternoon, which would break the daily record high temperature. That will be paired with mostly sunny skies and likely dry conditions once again.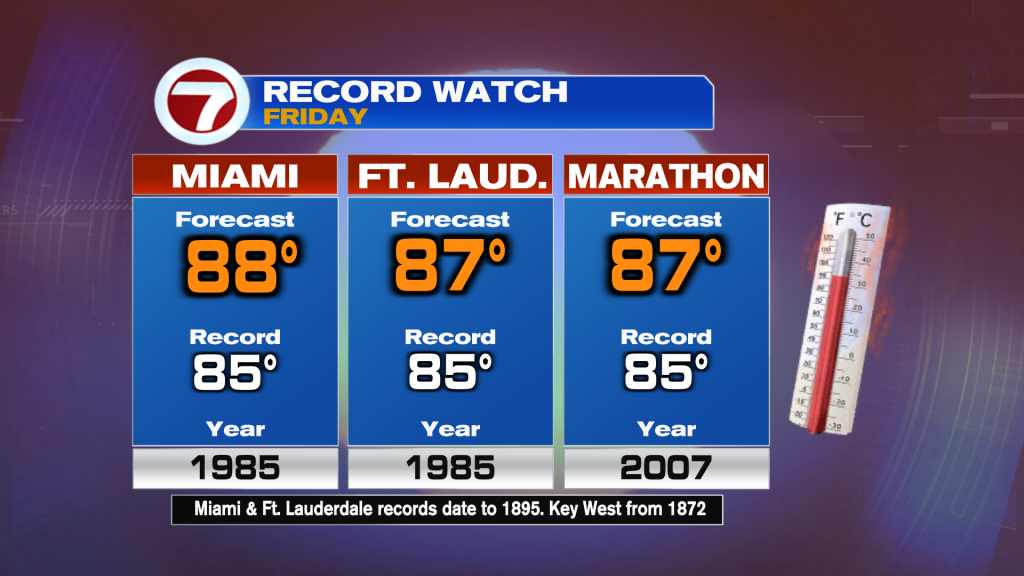 That weak front will then cross through South Florida overnight and will stall nearby this weekend. We do need the rain as January was a very dry month but unfortunately it will come during the weekend. The better chance for rain will be on Saturday with quick-moving, scattered showers blowing onshore along a northeast breeze. That breeze will keep skies mostly cloudy and will produce wind gusts up to 35 mph along the coast. High temperatures will be more seasonable into the mid 70s at most locations.
On Sunday, we are expecting it to not be as wet but the occasional shower is expected with times of sun and clouds. Temperatures will be warmer on Sunday due to the added sunshine and easterly wind flow, meaning highs generally in the low 80s.
The first part of next week will return back to a more quiet period following a second front that pushes through on Monday, clearing out most of the clouds and showers. Therefore, expect more sunshine, likely dry conditions and highs in the low to mid 80s and lows in the upper 60s to low 70s.