Happy Sunday, South Florida!
Happy Easter! Hopefully everyone had a nice holiday weekend so far. Luckily for South Florida, the weather cooperated on Saturday where we got to enjoy plenty of sunshine and mainly dry conditions across our area. Interior sections of South Florida (outside of our metro areas) saw a great amount of rain and thunderstorm activity on Saturday afternoon. While conditions were quiet for the southeast coast of Florida, changes are underway, so if you haven't used your umbrella in what seems like a little bit of time, be sure to take them out once again because we will be needing them later today.  In the meantime, this morning we woke up to mild and muggy conditions with above average temperatures in the 70s and mainly dry conditions as most of the showers were found offshore.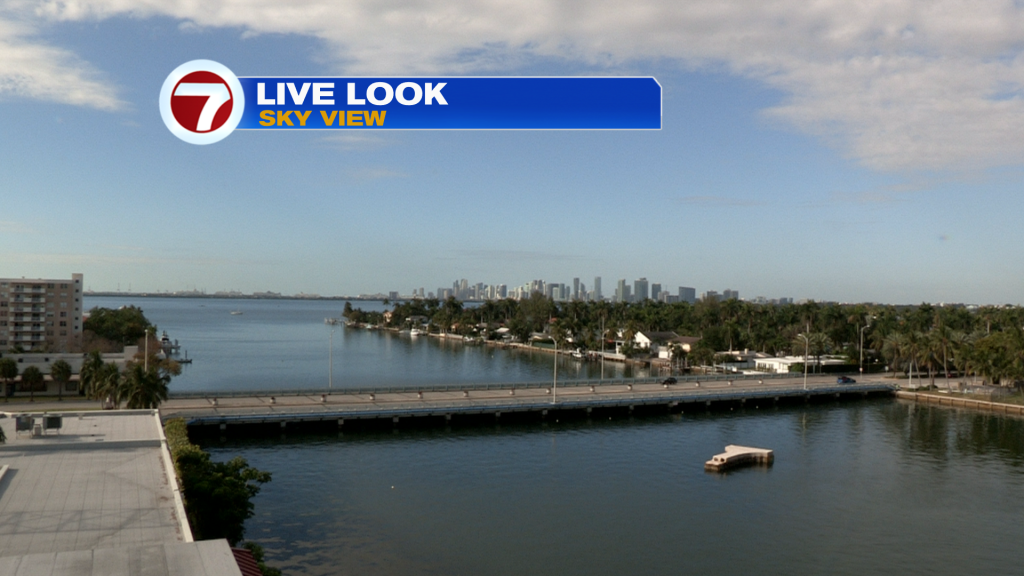 For those observing Easter, the forecast today could get tricky. If you have outdoor plans for the holiday, be sure to keep the umbrella close. Showers and a few thunderstorms may return to the forecast later today, however, it's not all bad news for the forecast across Florida. While scattered showers and thunderstorms are in the forecast later on this afternoon, South Florida will still get to enjoy plenty of dry time throughout the day up until about 2pm before showers begin to move in. Afternoon high temperatures may easily reach the upper 80s across many spots while our feels like temperatures will reach the lower 90s. A weak front will be moving closer to South Florida as the day progresses and this will enhance any shower and thunderstorm information over our area. Later today, the rain could be heavy at times which could lead to a concern for flooding through this evening.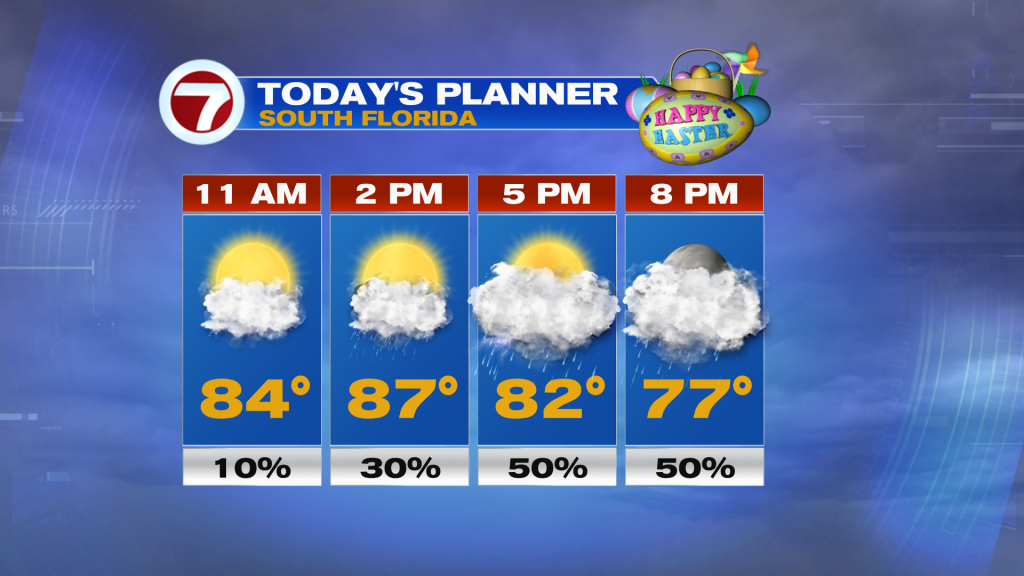 Let's talk a little about the rain and thunderstorms for this afternoon. Just after lunch, South Florida should begin to see showers popping as a front moves closer to South Florida. This weak front, together with the daily heating of the day AND a westerly steering flow (the wind that steers thunderstorms), afternoon storms will favor the East Coast metro areas today. By 3pm, a few thunderstorms will already begin to move West to East. Unfortunately, it looks like some of the rain and thunderstorms will linger into the evening. So be sure to have the rain gear with you as you go about your day! Also worth mentioning is that our mainland areas (Miami-Dade and Broward) look to be getting the brunt of the unsettled weather today with a shower or two possibly reaching the upper Florida Keys.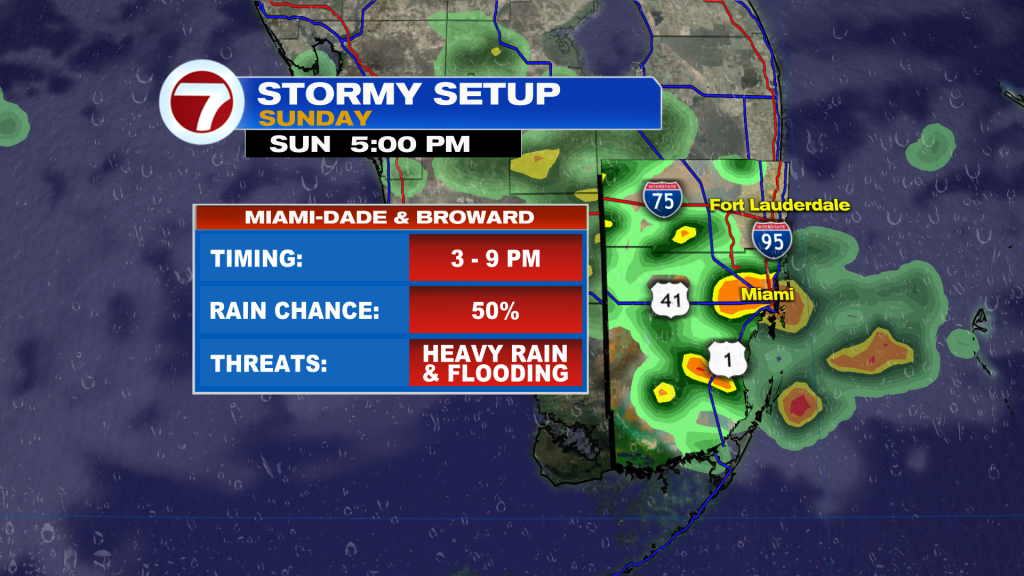 Looking ahead, South Florida looks to be entering an unsettled weather pattern as we head into next week as the above-mentioned front will remain nearby, allowing for an area of low pressure to develop along that old front over the Gulf of Mexico.  The exact location of where the front ends up will determine the amount of rain South Florida will see.  A front near or over our area means more rain for our mainland areas while a front farther south means more rain for the Florida Keys and fewer showers for our mainland areas.  Regardless, this front will not only keep the potential for rain to be on the higher end but will also enhance storm activity across South Florida through the middle to end of the work week.  And while the exact timing and the extent of the rain still remains uncertain, South Florida can still expect conditions to be windy and very wet at times at the very least, which could lead to a flood concern.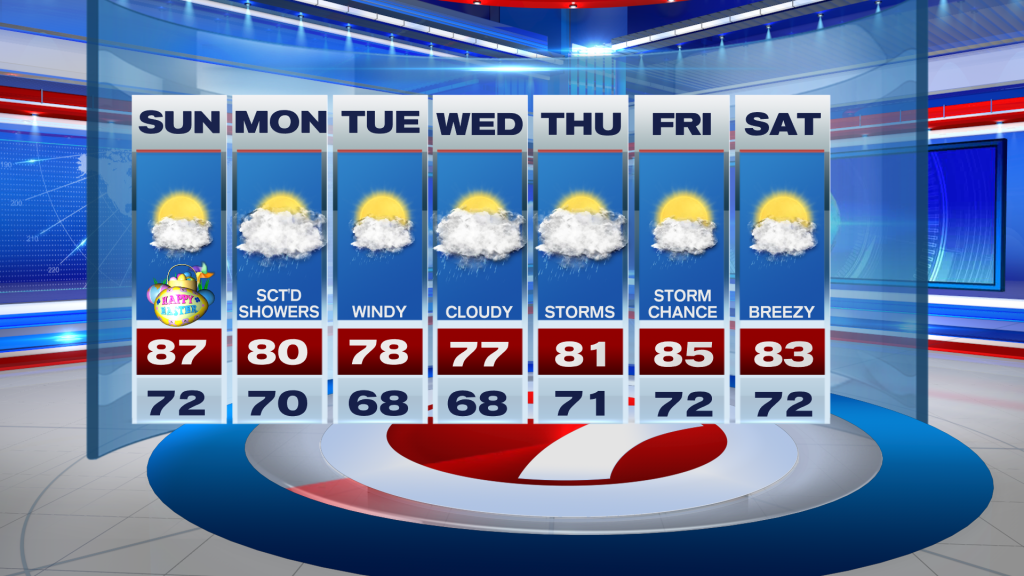 Have a wonderful holiday!
Erika Delgado
Meteorologist
WSVN Channel 7 News
Copyright 2023 Sunbeam Television Corp. All rights reserved. This material may not be published, broadcast, rewritten or redistributed.