Happy Thursday, South Florida!
Hopefully, everyone has been able to manage this wet weather that south Florida has had all week as countless rounds of rain continued over our area, led to multiple tornado warnings in Broward and produced flash flooding across South Florida. After days of heavy rain, conditions are finally much more quiet this morning than what we've seen in previous days. Preliminary rainfall totals across South Florida through the last 24 hours shows astonishing rainfall amounts. Some of the hardest hit areas received between 15 to 24 inches of rain.  And that was yesterday alone.  This doesn't include all of the heavy rain we have seen Sunday afternoon through Tuesday.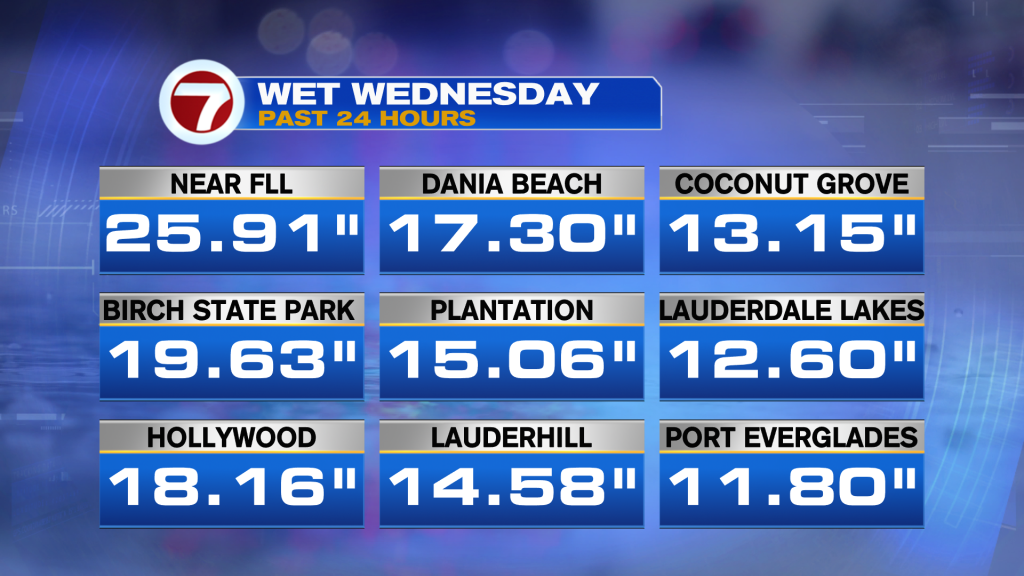 The weather pattern will slowly begin to change across South Florida today but unfortunately more rain and thunderstorms are in the forecast. The disturbance in the Gulf of Mexico continues to move northward and lifted the old front (that had been stalled over the FL Keys) northwards across mainland areas of South Florida.  And while it was over our mainland areas on Wednesday afternoon (which is what caused the flooding rains across south Florida), this front will slowly begin to lift north of our area, taking all of its moisture with it. So expect the sunshine to return to the forecast today, however, the storms will be favoring the East Coast metro areas this afternoon. 
Adding insult to injury, any thunderstorms that do develop today will have the potential to be on the stronger to severe side.  Main threats with any severe thunderstorms will be heavy rain (which leads to flooding) and damaging winds.  Small hail and isolated tornadoes cannot be ruled out.
Looking ahead, a similar setup of afternoon thunderstorms is in the forecast for Friday.  But then drier air will begin to move in for the start of the weekend, which will finally provide South Florida brief rain relief. More sunshine, lighter winds and lower rain chances means South Florida will also begin to warm up again. Expect upper 80s for the weekend, if not as early as Friday. After a quiet start to the weekend, a change in the wind direction (ahead of our next front) should bring the return to afternoon showers by the second half of Sunday. The start of next week promises to bring milder temperatures, scattered showers and breezy conditions as another front will be over our area.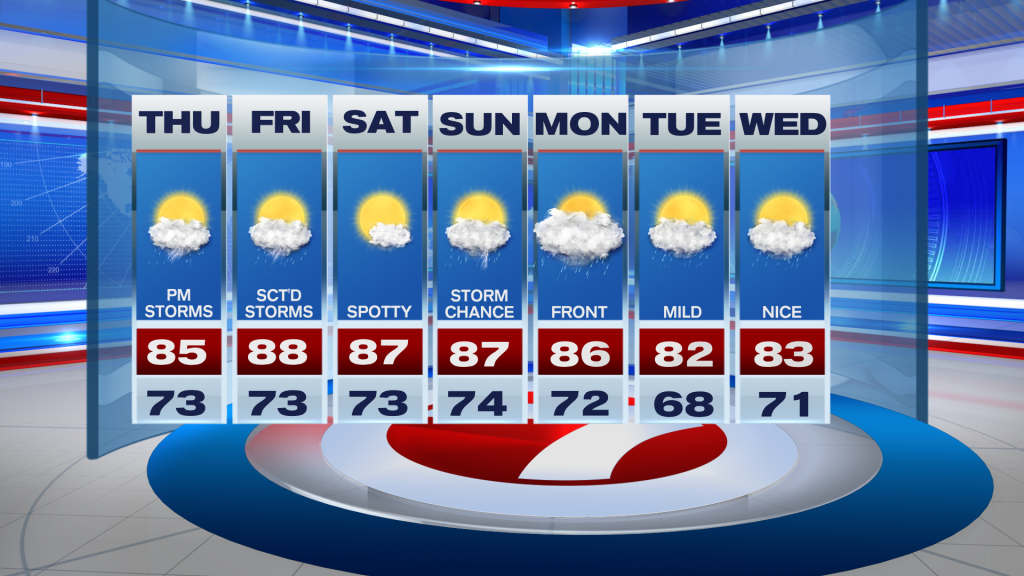 Stay safe on the roads!
Erika Delgado
Meteorologist
WSVN Channel 7 News
Copyright 2023 Sunbeam Television Corp. All rights reserved. This material may not be published, broadcast, rewritten or redistributed.