It has been a very hot and oppressive week so far in South Florida and that continues this Thursday courtesy of a heat dome remaining parked nearby, generating and trapping plenty of heat and humidity across the southeastern U.S..
That dome of heat even led Key West to break their all-time warmest low temperature on record of 88F! That broke the old record of 87F which has been set several times, as recently as earlier this year.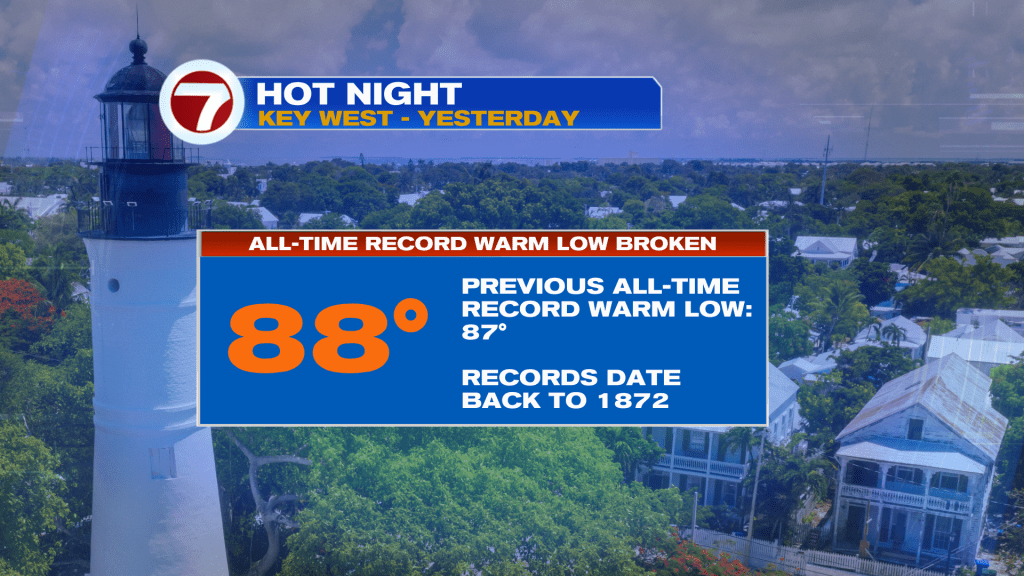 Excessive Heat Warnings remain in effect through 7PM for Miami-Dade and Broward Counties for feels-like temperatures up to 115F.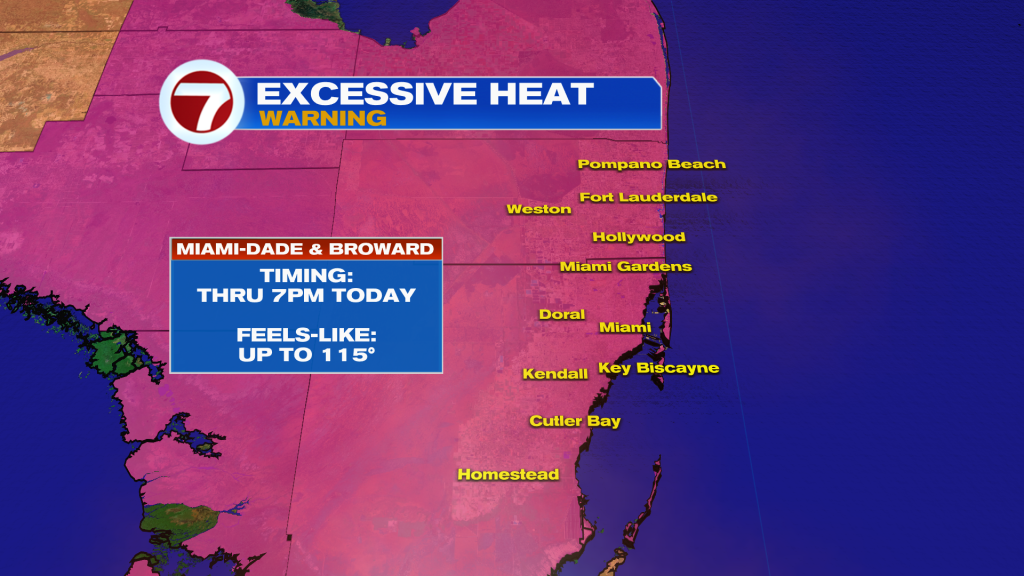 A Heat Advisory is in effect for the Florida Keys from 10AM through 8PM for feels-like temperatures up to 110F, with some locations even hotter.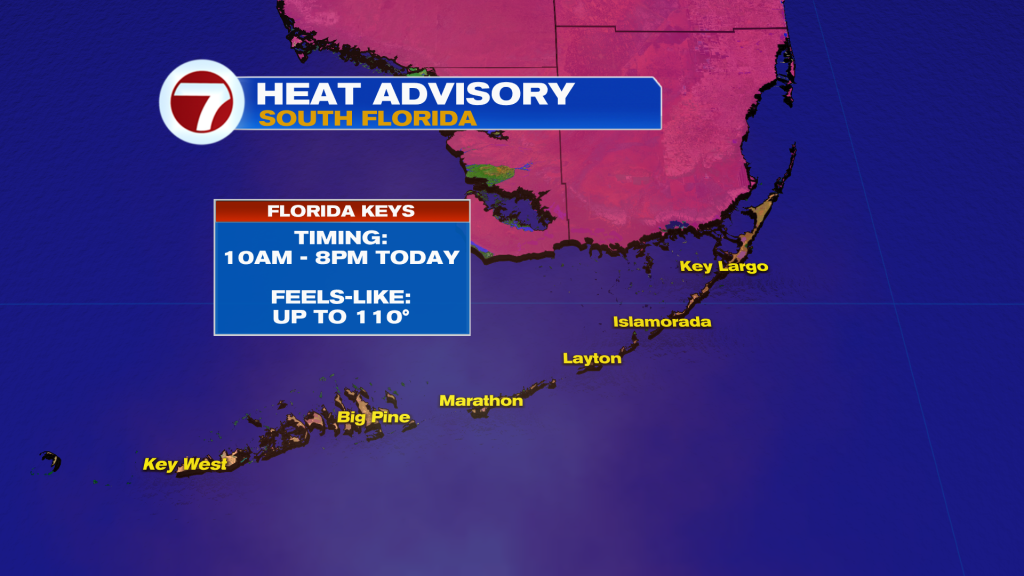 Actual high temperatures will reach the mid 90s at most locations, with lots of sunshine and very steamy conditions in the morning. A spotty shower will be possible but rain chances will increase to a 40% chance for the afternoon and evening hours with rain and thunderstorms possible across portions of the mainland.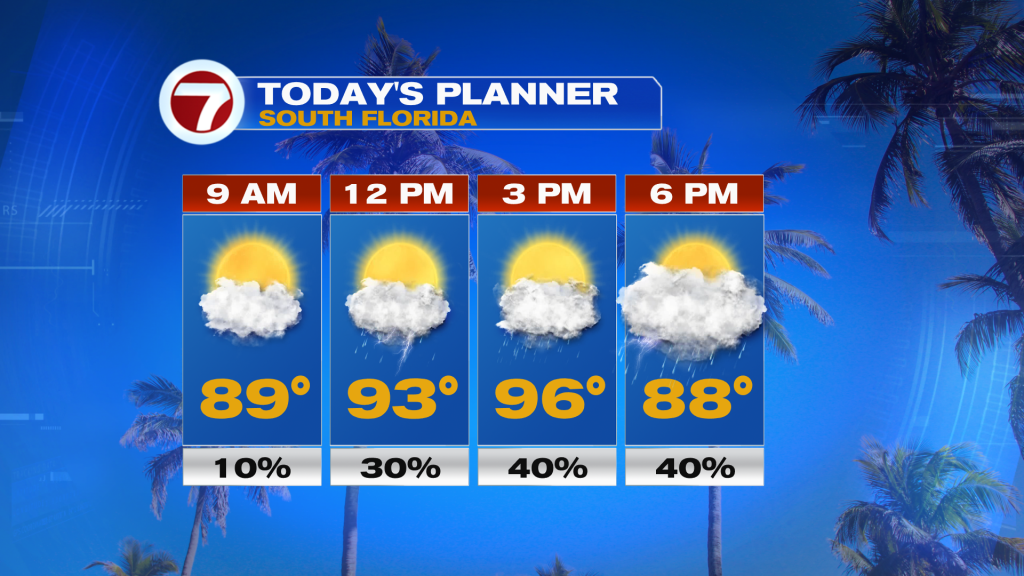 Friday will trend drier but still hot with highs in the mid 90s. Rain chances will be down to a 20% risk, meaning just a spotty shower will be possible along the easterly breeze. Otherwise expect a beautiful but toasty day with generally sunny skies.
That changes for the weekend, unfortunately, as a tropical disturbance moves in from the east. This will increase rain chances and cloud cover and should drop temperatures down by a couple degrees — still above average with feels-like temperatures in the triple digits.
Rain chances on both Saturday and Sunday will be at a 60% chance with times of showers and storms expected. The heaviest of rainfall will be across inland areas as shower and storm activity gradually shifts inland from the metro and coastal areas.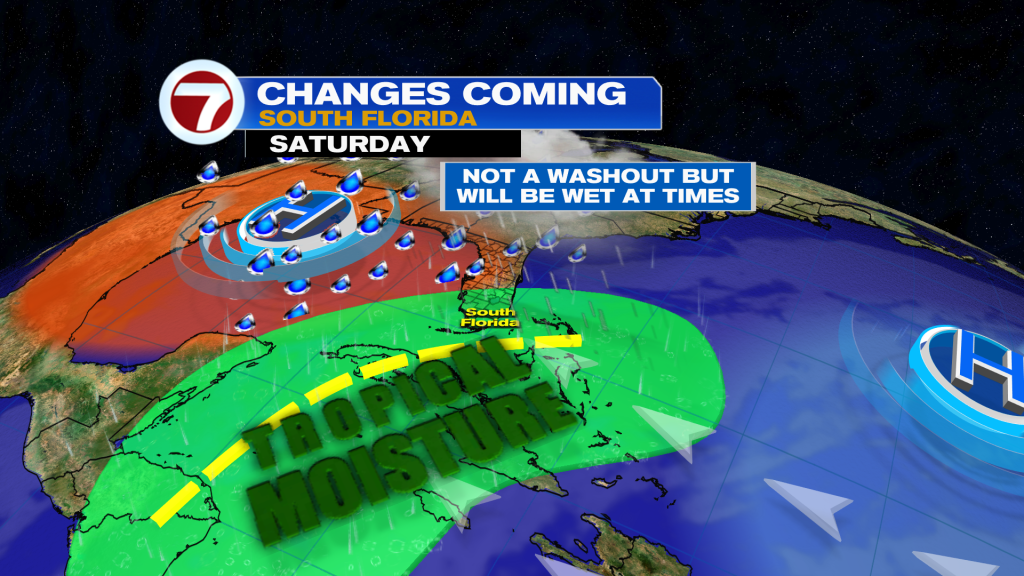 By next week, more sunshine will return with scattered showers and storms remaining possible at times across South Florida. Highs will hover above average into the low to mid 90s.