Tri-Rail is South Florida's premier commuter rail service that transports people between Miami-Dade, Broward and Palm Beach counties. With 18 train stations along 73.4 miles, it's the best way to beat the traffic when traveling to work, school, for fun or to the airport.
The purpose of our Respect the Rails campaign is to raise the public's awareness of the dangers associated with railroad crossings. Life even without a pandemic can be stressful, and it's easy to get distracted during your day-to-day routines. But in the blink of an eye, all of your life can be affected with a collision with a train. It is just as important for drivers on the road, as it is for pedestrians, to be extra cautious when nearby crossings. The main focus, especially now during Rail Safety Week, is to remind the public that stopping on the tracks, as well as walking on the tracks is not only dangerous, but it's a violation of the law.
Trains can't stop at a dime. By the time the train engineer notices something or someone is on the tracks, it's much too late for them to stop, so it is critical that the public knows to stay clear of the train tracks. A collision with a train is always a devastating event, and many times tragic. By being safe and aware, we can save more lives.
We regularly partner with our colleagues at Florida Department of Transportation who are a big supporter of Rail Safety Week. We have also partnered with organizations like the 2-1-1 Helpline, Amtrak, as well as Brightline and local law enforcement and first responders across South Florida.
All of Tri-Rail crossings are active crossings, with lowering gates and flashing lights that alert drivers that a train is approaching, as well as delineators that help identify where there is a crossing on the road. We visit schools and businesses, virtually and in person, to educate them about railroad safety. We also work with different law enforcement agencies to conduct emergency drills using Tri-Rail trains at train stations and we continue to work with our partners to introduce new safety measures onto our system.In addition, our onboard security guards have been handing out face masks to passengers who hop on without wearing one.
Whether on foot or driving, do not stop on the tracks.When the crossing gates are flashing red lights, it means stop before crossing the tracks. It takes less than a minute for most trains to pass so just stop like you're at a regular red stop light. Just because you see a train pass, does not mean there isn't another train coming on another track, so do not cross until the gates are cleared and the lights are no longer flashing.If walking across tracks, don't get distracted with your phone or electronic devices, and keep your headphones off so you can hear any oncoming trains.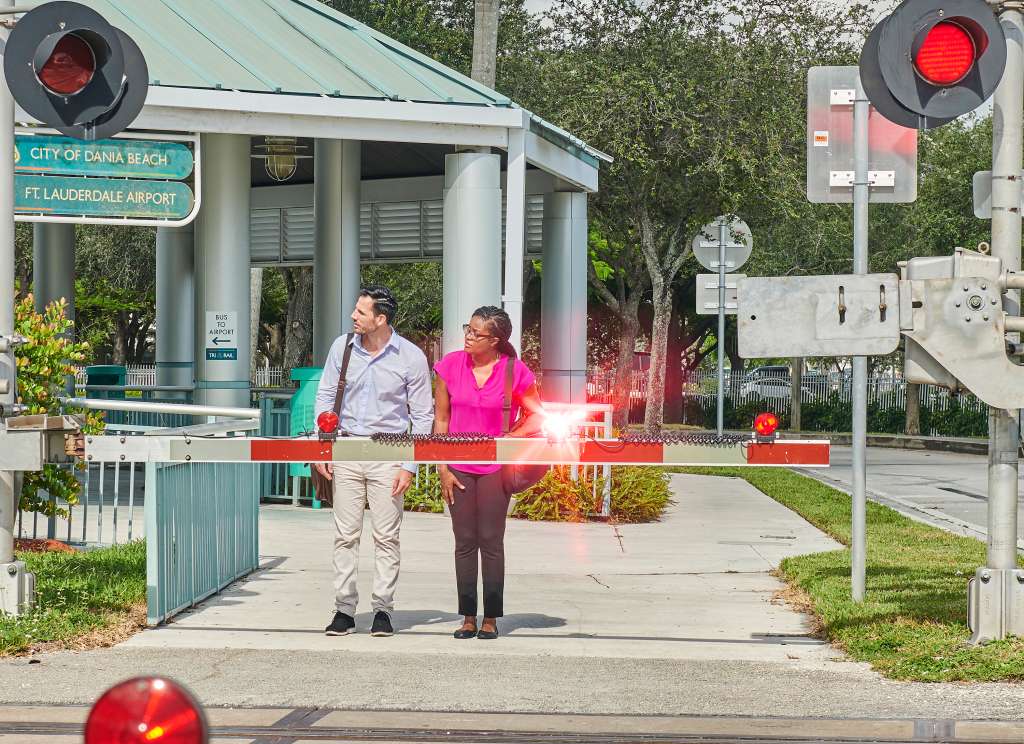 We are almost running full service, so even though we have been running service throughout the pandemic, there are more trains operating today than we had this time last year during Rail Safety Week. Though face masks are no longer required at station platforms, they remain a requirement while onboard trains and buses. So we will continue to enforce the federal mandate to wear masks as it also helps us maintain a safe means of travel.