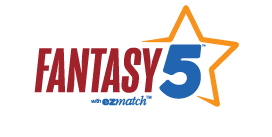 TALLAHASSEE – Today, the Florida Lottery (Lottery) is proud to unveil the new, refreshed logo for the FANTASY 5® Draw game along with the addition of a midday draw, offering players two daily chances to play and win! The new logo is part of the Lottery's ongoing efforts to modernize its brand and appeal to a broader audience. The Lottery is committed to providing fun and exciting games that generate revenue for the state's education system, and the new FANTASY 5 logo is a testament to that commitment.
The new midday drawing will be held daily at 1:05 p.m., ET. Midday FANTASY 5 ticket sales close 20 minutes prior to the drawing, at 12:45 p.m., ET. Tickets purchased after the cut-off time will be for the next available draw.
In addition, players have an opportunity to participate in two limited-time, instant-win promotions for a chance to win $25 cash coupons and BOGO instant-win coupons. During the promotional period, more than 1 million instant-win and BOGO coupons will be awarded. For promotional dates and hours, click here.
FANTASY 5 allows players to select five numbers from a field of 36, for the chance to win top prizes of approximately $100,000! The game will now be drawn twice daily, seven days a week. Since its launch in 1989, FANTASY 5 has generated over $3.87 billion in contributions for education statewide. Since then, nearly 1 billion FANTASY 5 winners have won more than $5 billion in prizes.
ABOUT THE FLORIDA LOTTERY
The Florida Lottery is responsible for contributing more than $43 billion to enhance education and sending more than 950,000 students to college through the Bright Futures Scholarship Program. The Florida Lottery reinvests 99 percent of its revenue back into Florida's economy through prize payouts, commissions to more than 13,000 Lottery retailers, and transfers to education. Since 1988, Florida Lottery games have paid more than $85.8 billion in prizes and made more than 3,500 people millionaires. For more information, please visit www.flalottery.com.