DANIA BEACH, FLA. (WSVN) - Firefighters put out a fire that engulfed two boats at a marina in Dania Beach.
7SkyForce hovered over the scene at 299 Lewis Lane, just south of Fort Lauderdale-Hollywood International Airport, Wednesday afternoon.
The two boats could be seen fully engulfed in flames as heavy black smoke billowed from them.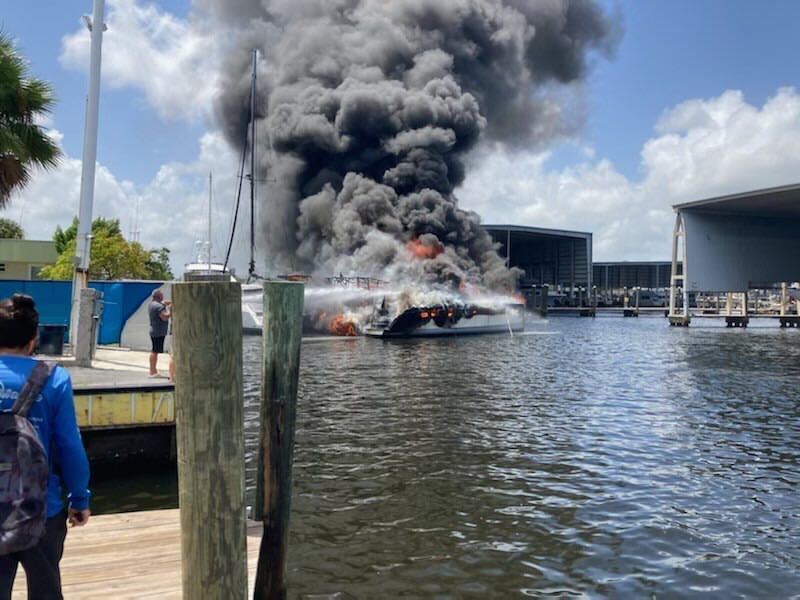 "We couldn't breathe in all the bad stuff," said neighbor Gayle Snow.
It took 50 firefighters to fight back the intense flames burning on the boats on Dania Beach Cutoff Canal.
"And one caught the fire, and then it caught the next boat and there was a big superyacht that was right behind them," said witness Tony Pereira. "They were lucky to get that out of there."
Broward Sheriff's Office Fire Rescue said the fire may have been the result of the work being done on one of the boats.
One boat broke free of the dock and drifted into the canal and sank.
"We saw a sailboat tip over," Snow said. "The mast was on fire."
"I mean, it was — it had to be 300 to 400 feet of just black, you know, and as I looked down Lewis [Lane], I could see these flames were like huge," said neighbor Carlos Enchaniz. "
Pattie Gamper lives right alongside the water but was just down the street when the fire broke out.
"It was way up there, 40 or 50 feet, and I thought it was this apartment, I was like, 'Oh, my God,'" she said. "I mean, it was so fast."
As the boats burned, the heat became so intense, the leaves on the bush beside the dock shriveled up and the railroad block was blackened.
Two men who were working on the boats in some capacity were taken to the hospital with burn injuries. One man suffered serious burns to his lower legs, while the other man sustained minor burns, according to BSO Fire Rescue.
Fortunately, despite the boat fires being so close to a residential area, no homes were damaged.
"And they're lucky [they] didn't drift towards the vector shipyard, because that would've been a catastrophe," Pereira said.
Both men are expected to be OK.
The Coast Guard will be conducting an investigation into the boat fires.
Copyright 2021 Sunbeam Television Corp. All rights reserved. This material may not be published, broadcast, rewritten or redistributed.