SUNRISE, FLA. (WSVN) - A memorial was held for Broward Sheriff Fire Rescue Battalion Chief Terryson Jackson as a community bid farewell to the fallen officer who made the ultimate sacrifice in the line of duty.
A procession traveled around several Broward County cities on Friday morning as it made its way to The Faith Center Church in Sunrise.
The fallen battalion chief's procession began following an early morning service at the LC Pointer Funeral Home in Pompano Beach.
Jackson, who tragically lost his life in a helicopter crash on Aug. 28, was posthumously promoted to the rank of battalion chief, honoring his dedication and unwavering commitment to serving the community.
7News cameras captured Jackson's casket draped with the U.S. flag as service members carried it into the church. Hundreds of firefighters and law enforcement officers from neighboring counties were in attendance to give their courageous brother a final goodbye.
At the ceremony inside the church, BSO Sgt. Cleavone Brooks pointed out the many people who attended Jackson's procession.
"Terry knew he was special, but I don't think he knew he was this special," he noted. "To have all these people in here."
As Broward County mourns the loss of Jackson, the fallen officer's procession provided an opportunity for the community to come together and honor the bravery and dedication of those who serve in the line of duty.
"He was the epitome of bravery,' said Jackson's sister, Dr. Sanjie Jackson, "And he was a true hero in every sense of the word. Today, he's leaving six siblings who admire him and love him dearly."
Along with his siblings, Jackson leaves behind a son and a daughter.
"He'll be deeply missed," said Charlene Brooks, a family member. "His son, his daughter, they were very close to their dad and his parents, of course. That was their son. His department family, they're gonna miss him, and as you can see today, the support is miraculous."
His journey in public service began on March 22, 2004, with Deerfield Beach Fire Rescue, and he continued his career when he joined the Broward Sheriff's Office as a Fire Rescue lieutenant during the merger on Oct. 1, 2011.
In 2013, Jackson became a flight medic for the Air Rescue 85 team and was promoted to captain on Feb. 24, 2016. His dedication extended beyond his duties, as he obtained an Associate of Science degree in Emergency Medical Services and earned numerous other educational certificates.
Jackson was known for his friendly personality and his willingness to help others. He consistently exceeded expectations and displayed initiative in accomplishing tasks, earning praise from his supervisors.
Amid the grief and reflection, Broward County officials will acquire a new state-of-the-art helicopter for the BSO. This decision comes in response to the catastrophic helicopter incident, which not only claimed Jackson's life but also that of Lurean Wheaton, a 65-year-old resident living in an apartment complex in Pompano Beach.
The county's resolve to replace the aircraft emphasizes the importance of maintaining modern and reliable aviation assets to ensure public safety.
"We need to be prepared and to be able to replace that aircraft," Broward County Mayor Lamar Fisher said in Thursday's commission meeting.
The approved $15 million allocation for the new twin-engine H145 helicopter, part of which will come from reserves, will expedite the process. Airbus, the manufacturer, unexpectedly offered two of these state-of-the-art helicopters, expediting the county's efforts to bolster its aviation capabilities.
County officials also thanked BSO for paying for the funerals and expenses of both Chief Jackson and Wheaton.
"I just want to also make note and thank Sheriff Tony and the Broward Sheriff's Office for their generosity to pay for Ms. Wheaton's funeral arrangements," said Fisher. "They stepped in, and they did that."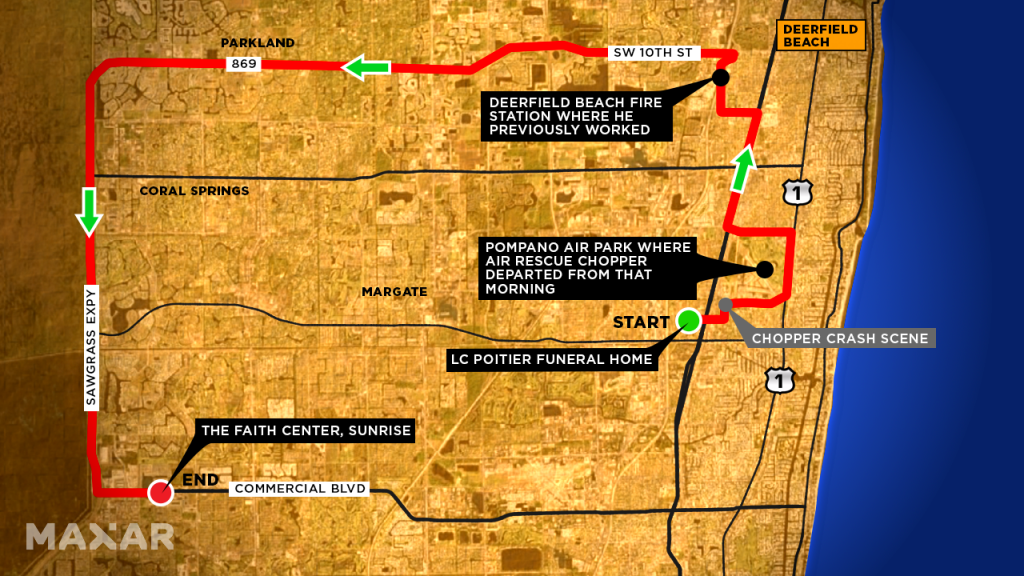 As the morning procession unfolded into the afternoon, Florida Gov. Ron DeSantis ordered the state flag to be flown at half-staff at the BSO office, as well as the Broward County Courthouse and at Tamarac City Hall.
Copyright 2023 Sunbeam Television Corp. All rights reserved. This material may not be published, broadcast, rewritten or redistributed.