OAKLAND PARK, FLA. (WSVN) - Detectives from the Broward Sheriff's Office Traffic Homicide Unit are on the lookout for the driver responsible for a hit-and-run crash that claimed the life of a pedestrian in Oakland Park.
According to investigators, the incident occurred on Tuesday, at around 10:12 p.m.
Detectives said a woman was attempting to cross West Oakland Park Boulevard from the north side of the roadway to the south side, in an area without designated crosswalks, when an unidentified vehicle traveling eastbound on West Oakland Park Boulevard approached the 2400 block.
Authorities said the vehicle struck the pedestrian within the center thru lane, causing her to be projected in a southeasterly direction, where she came to rest along the south side of the roadway.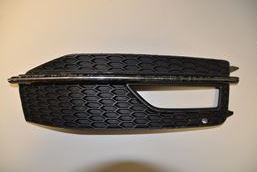 Following the collision, detectives said, the driver fled the scene, continuing eastbound toward Interstate 95.
Upon receiving the report, BSO deputies and Oakland Park Fire Rescue responded to the scene, but the pedestrian was pronounced dead at the site of the crash.
Investigation into the incident revealed that the vehicle involved was an Audi. Subsequent examination identified the Audi as a white, 2013-2015 model A4 or S4. In their efforts to apprehend the driver, authorities have shared photos of the car's debris collected from the crash scene, along with an image of a similar-looking vehicle.
If you have any information on this hit-and-run or the driver's whereabouts, call Broward County Crime Stoppers at 954-493-TIPS. Remember, you can always remain anonymous, and you may be eligible for a reward of up to $5,000.
Copyright 2023 Sunbeam Television Corp. All rights reserved. This material may not be published, broadcast, rewritten or redistributed.