DANIA BEACH, FLA. (WSVN) - Online death threats targeting a well-known colony of South Florida monkeys has a scientist scared and police investigating. Karen Hensel has tonight's 7 Investigates.
Their names are Bella, Andor and Spike. Three of the 40 wild, vervet monkeys living near the Fort Lauderdale airport.
They have been here since the 1940s, when their ancestors escaped a Dania Beach research facility.
But recently, they have become the target of death threats posted on Facebook.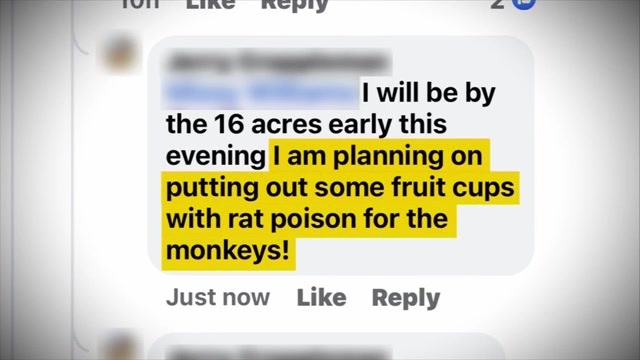 One person wrote: "I am planning on putting out some fruit cups, with rat poison for the monkeys!"
Another commented: "I wanna go monkey hunting!!" To which someone replied: "I'm down, let's roll at dawn."
Dr. Missy Williams, biologist: "I was appalled."
Dr. Missy Williams is a biologist who has studied the monkeys extensively.
Dr. Missy Williams: "Primates are highly social in nature, so each group does have a group of females that are all related. So you have grandma, moms, aunts, sisters, etc."
Karen Hensel: "And they stay together like any other family."
Dr. Missy Williams: "Absolutely."
But as 7 Investigates has reported, some male monkeys have left the colony over the years. They have been spotted in North Miami Beach, Aventura and North Perry Airport.
While they are non-native to Florida, vervets are not invasive as opposed to iguanas and pythons.
Dr. Missy Williams: "They are not causing any damage to the native ecosystem. Not aggressive, we've had zero reports of aggression reported in the last 10 years that I've been here."
But now, threats of human aggression have rattled Dr. Williams.
Dr. Missy Williams: "To actually start to threaten violence via trespassing, to poison the animals or to shoot on sight, that's just horrible."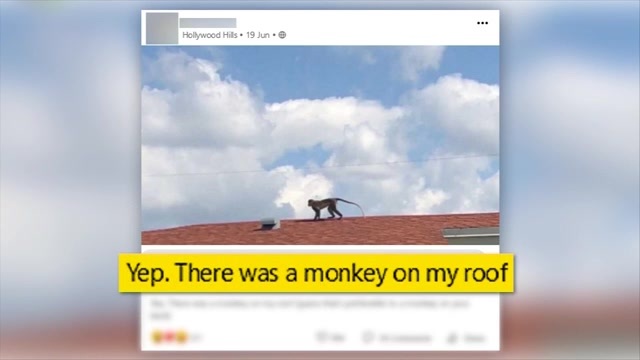 It all started when a Hollywood resident posted this picture online, saying "Yep. There was a monkey on my roof."
But things escalated after a trapping company named Iguana Lifestyles reposted it, saying: "The vervet monkeys in Dania Beach are now making their way to Hollywood. These non-native species carry and spread diseases like no other."
Dr. Williams says that is not true.
Dr. Missy Williams: "So for people to think that all monkeys carry herpes B, that's not true at all. If they were infected with herpes B, they would die. These monkeys do not carry rabies, so for people to think that they're spreading disease is very erroneous, and we have the data to show that."
The online post prompted more than 200 responses.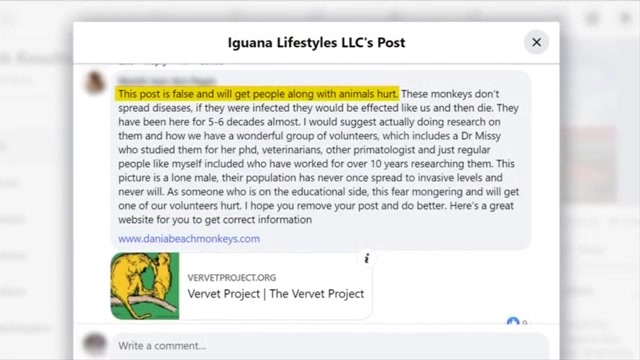 Many defended the monkeys, writing: "This post is false and will get people along with animals hurt" and "So much stupid in one place."
We asked Iguana Lifestyles owner Harold Rondan about the fallout from his post.
He told us by phone he made a second post apologizing this was getting out of hand.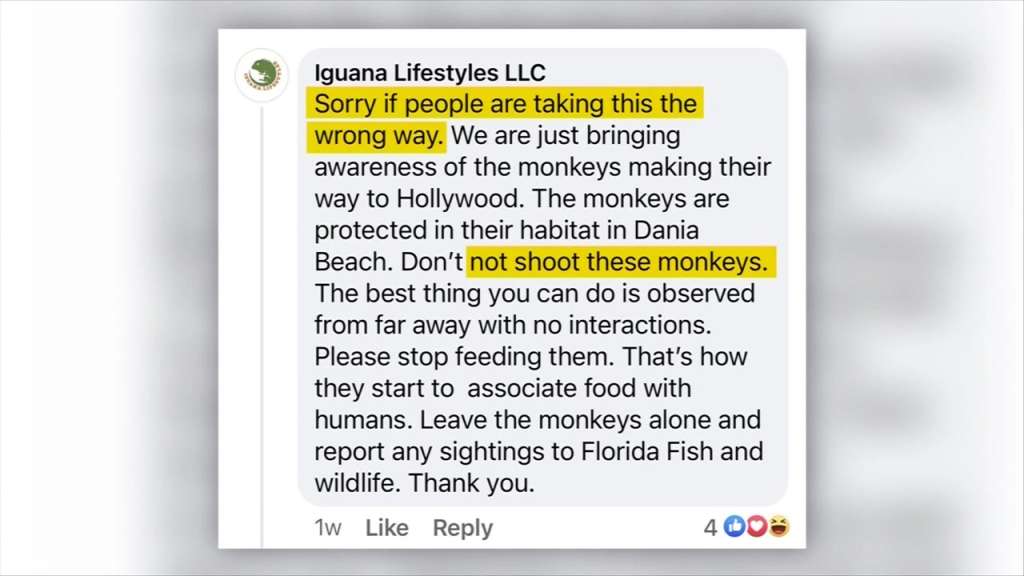 It reads, "Sorry if people are taking this the wrong way" and to "…not shoot these monkeys."
He initially agreed to an on-camera interview but then stopped returning our calls.
Meanwhile, security cameras keep constant watch over the monkeys and the Broward Sheriff's Office has an "active criminal investigation" into the threats.
Dr. Missy Williams: "We have college students here, and we also have research assistants, so all of them have expressed concern, about coming onto site and should they worry about their safety."
And if someone did hurt or kill these vervet monkeys, BSO says they could be charged with animal cruelty, which could mean time behind bars. Karen Hensel, 7News.
CONTACT 7 INVESTIGATES:
305-627-CLUE
954-921-CLUE
7Investigates@wsvn.com
Copyright 2023 Sunbeam Television Corp. All rights reserved. This material may not be published, broadcast, rewritten or redistributed.