(WSVN) - They are loud, disruptive and dangerous. The problem of illegal street racing and drivers taking over intersections is roaring across the streets of South Florida. 7's Karen Hensel investigates this reckless trend.
The sounds of burning rubber, revving engines and gunfire.
Dispatcher: "Female shot in the leg, male grazed in the shoulder."
A combustible mix that ended with three people injured in Northwest Miami-Dade on Aug. 6.
Detective Alvaro Zabaleta, Miami-Dade Police Department: "We could have had multiple people dead."
A week later on South Beach…
Witness: "Yeah, there was a good amount of blood."
A man was beaten during another street takeover.
Witness: "As the guy was walking, he jumped off his bike and started wailing on him."
And just this past weekend at an intersection in Miami, drivers were doing donuts in a ring of fire. Videos like this are often shared on social media.
It's one thing to watch this reckless behavior caught on camera. But it's an entirely different story to be an innocent driver literally caught in the middle of one of these street takeovers.
George Baraque, caught in street takeover: "They had very strategically blocked the entire tunnel."
On July 17, George Baraque was driving home from work around 1 a.m. His dash camera recorded as he entered the tunnel on U.S. 1 near Fort Lauderdale-Hollywood International Airport.
George Baraque: "Everybody in that tunnel was trapped."
George couldn't see the riders blocking cars, but he could definitely hear them.
George Baraque (to 911): "The southbound ramp is being blocked by a bunch of goons."
George and other drivers called 911.
911 caller: "You've got racers doing donuts in the road underneath the main airport runway."
George Baraque (to 911): "And I think I'm hearing gunshots. There are about maybe 250 cars blocked here."
George Baraque: "This was a petri dish for all kinds of disasters, starting with somebody just inadvertently ramming in from behind and causing a chain reaction which might have resulted in multiple injuries or even a fire."
Lt. Alex Camacho, Florida Highway Patrol: "We've seen it actually becoming a trend."
FHP Lt. Alex Camacho says racers aren't always arrested on the spot. But a tougher state law — and watchful eyes — mean police can catch up and eventually cuff those involved.
Lt. Alex Camacho: "We have analysts that are continuously monitoring all social media platforms."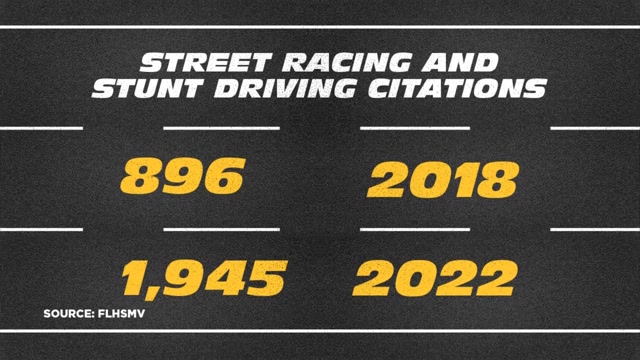 Street racing and stunt driving citations have spiked in recent years. Eight hundred and ninety-six were issued statewide in 2018, but by 2022, that number had more than doubled to nearly 2,000.
Drivers, race organizers, even passengers, now face possible jail time and their vehicles being impounded.
Lt. Alex Camacho: "The biggest thing is, don't try to confront these individuals. These can be dangerous people within these groups."
George, a former police officer himself, knew to stay put.
George Baraque: "I started seeing people getting out of the car and filming the actual event in front. I didn't get out of my car."
He was trapped in the tunnel for nearly 15 minutes … before police sirens were heard and this blockade came to an end.
But the signs of danger were left behind.
Karen Hensel, 7News.
If you recognize participants or any of these vehicles — or have information about an upcoming street racing event — authorities ask that you email them. The address: StopRacing@flhsmv.gov.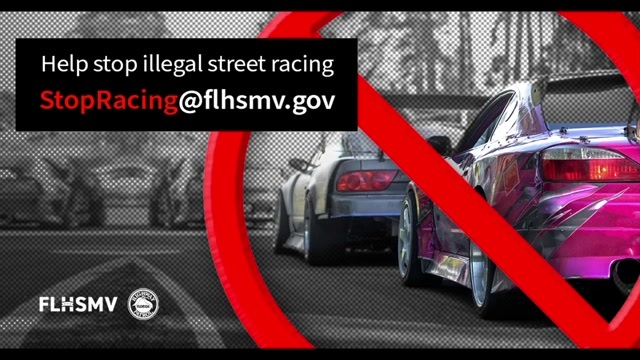 CONTACT 7 INVESTIGATES:
305-627-CLUE
954-921-CLUE
7Investigates@wsvn.com
Copyright 2023 Sunbeam Television Corp. All rights reserved. This material may not be published, broadcast, rewritten or redistributed.