Three-oh-five. It's not just an area code; it's a way of life.
Nobody does it like Miami, and this weekend, there's a big party in Wynwood that'll show you why Miami is known as the Magic City.
Pittbull said it best: There ain't no party like a 305 party.
March 5 is 305 Day in the Magic City.
Jennylee Molina: "We invite the community to come out and celebrate. It's a free event, and it's open to all ages."
La fiesta is going down at Wynwood Marketplace, and this year's event is extra special because…
Jennylee Molina: "It's our 10th anniversary of 305 Day. The Wynwood Marketplace will feature live music, art, so expect to see a lot of small businesses, a lot of great food and a lot of dancing."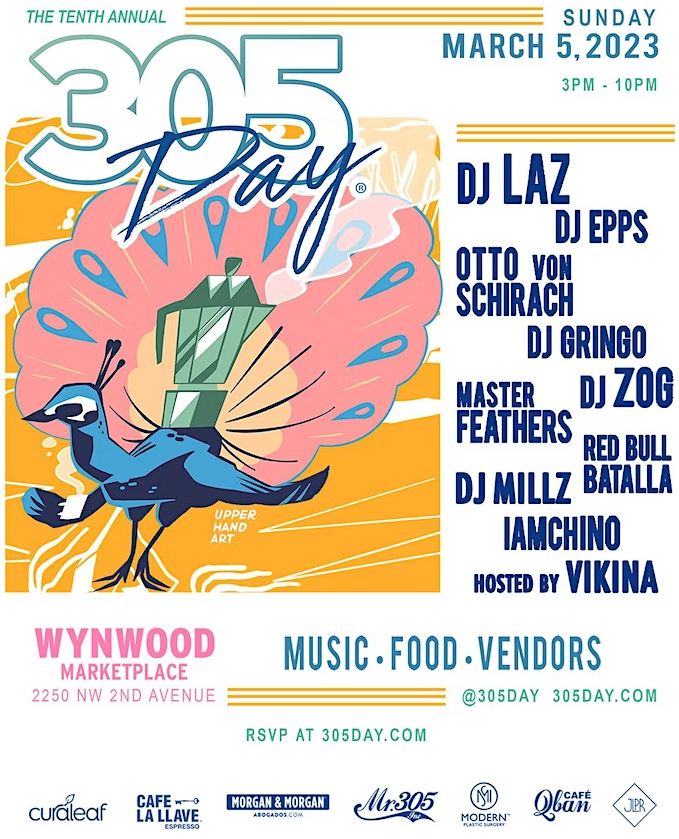 The dancing part is easy, because SoFlo icons DJ Epps and DJ Laz are co-headlining.
DJ Laz: "Listen, I hope you drink a lot of cafecito cubano, because I am definitely bringing the fire."
DJ Epps: "If you haven't witnessed a DJ Epps set, I advise you to come to the 305 Day, and I'm gonna shut it down."
We caught up with the guys at Pilo's Tequila Garden in Wynwood, which is hosting the 305 Day after party.
DJ Laz: "When we get here, it's just a whole different level of locura."
Also pumping up the crowd on Sunday is SoFlo's own Vikina, who's part of Pitbull's Mr. 305 Inc. record label.
She's hitting the stage as this year's host with the most.
Vikina: "I'll bring a lot of the hype. I think there'll be some twerking, and even though i'm not really essentially booked to perform, I'm gonna perform."
Get ready, party people, because when Miami turns out, we go all out.
DJ Epps: "You're gonna go crazy. You're gonna have fun."
DJ Laz: "There's no place like the 305., so if you wanna enjoy everything that this beautiful city has to offer, it's all about 305 Day."
FOR MORE INFO:
10th Annual 305 Day Block Party
Wynwood Marketplace
2250 NW 2nd Ave.
Miami, FL 33127
eventbrite.com/e/10th-annual-305-day-block-party-tickets-543211087987
Copyright 2023 Sunbeam Television Corp. All rights reserved. This material may not be published, broadcast, rewritten or redistributed.