Emmy award winning journalist Mike Marza anchors 7News at 4pm, 5:30pm and 6:30pm and reports for 7News' "Night Team" at 10pm and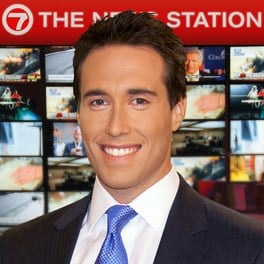 11pm.
Since joining 7News in July of 2011, Mike has covered a variety of stories in the field and on the anchor desk from tropical storms to terrorists attacks.
When bombs exploded at the Boston Marathon, Mike co-anchored five continuous hours of breaking news coverage of the attack. Five days later, he co-anchored the hunt for the accused bombers that unfolded on live television. After a gunman opened fire on Sandy Hook Elementary School in Newtown, Connecticut, Mike co-anchored 7News' special report on the tragedy. Mike also contributed to 7News' live coverage of demonstrations in South Florida and around the world following the death of Venezuelan President Hugo Chavez.
During the 2012 presidential election, Mike field anchored from Boston where he covered Mitt Romney's campaign. As Tropical Storm Issac threatened South Florida, Mike co-anchored continuing coverage of its projected path and the destruction in its wake.
Mike joined 7News from ABC News where he served as a freelance Anchor and Correspondent in New York City. Mike often co-anchored the network's popular overnight broadcasts "World News Now" and "America This Morning" and digital channel "ABC News Now." He also filed reports for "Good Morning America," "World News Now," "ABC News Radio" and "ABC NewsOne," the network's affiliate news service, servicing more than 200 affiliates across the country and around the world.
While at ABC, Mike covered major national and international stories involving politics, economics, sports, severe weather and breaking news. When International Monetary Fund Chief Dominique Strauss-Kahn was arrested in New York, Mike reported live for "Good Morning America" at the scene in Midtown Manhattan. Mike delivered live reports around the world after the FBI thwarted a Russian Spy ring in New York City. He also covered the Jet Blue pilot who "quit" by sliding down emergency shoot at JFK Airport, the Brett Favre sexting scandal, the LeBron James televised "decision," the Times Square failed bombing attempt, the New York City tornado and Northeast blizzard that crippled the Big Apple. Mike often served as the network's standby anchor overnight in the event of a special report.
Prior to his work at ABC News, Mike worked at Cablevision's News 12 Long Island in New York as a freelance Anchor and Reporter. While at News 12, he covered stories including the New York Governor David Patterson Scandal and the raid on suspected terrorists on Long Island.
Before moving to the New York, Mike was the Weekend Morning Anchor and Weekday Reporter at KSHB-TV, the NBC affiliate in Kansas City, Missouri. During Mike's time in Kansas City he covered a list of breaking news stories including Emmy nominated reports on the deadly Greensburg, KS tornado and the funeral in Dallas of Kansas City Chiefs Founder and American Football Conference pioneer Lamar Hunt. Mike also gained rare access of new Federal anti-terror training at FBI headquarters in Quantico, Virginia. His investigation into a child cage fighting ring won an Emmy award. He was also nominated for an Emmy for his in-depth investigation into the spike in Military Suicides. After KSHB introduced "multimedia journalism," Mike help lead the way, shooting and editing his own packages. When two news helicopters collided in mid-air in Phoenix, parent company Scripps-Howard sent Mike to Phoenix to cover news for KNXV ABC 15 to relieve staffers.
Mike began his on-air career while still in college at WIBW-TV in Topeka, Kansas first as an on-air intern, then General Assignment Reporter and eventually Weekend Anchor.
New York's prestigious International Radio and Television Society honored Mike with an all-expense paid Fellowship during his Junior year in college. The fellowship places aspiring media professionals in internships. He was placed at Fox News Channel working for "Studio B" and "Fox Report" with Shepard Smith. His class honored him as the "Steven K. Neno Most Inspirational Fellow" and he routinely contributes to events for each new class of fellows every summer.
Mike graduated from the University of Missouri-Kansas City.
Mike enjoys freetime with his wife, newborn son and eternally energetic Wheaten Terrier.